Potatoes
---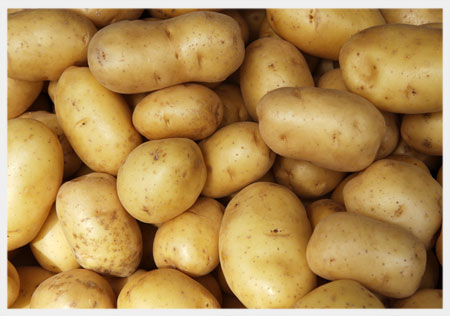 ---
Container Loading
| | |
| --- | --- |
| Bag Net Weight | 25 kg |
| Total Number of Pallets/Container | 18 Pallets |
| Total Number of Bags/Pallet | 60 Bags |
| Total Number of Bags/Container | 1,080 Bags |
| Total Net Weight per Pallet | 1,500 kg |
| Total Net Weight per Container | 27,000 |
Fresh potato
Fresh Organic Potato is the rich source of carbohydrate that gives instant energy to the body.
We export potatoes in different sizes. Potato is known for its high carbohydrate content. We procure potatoes from well-known agriculturists and framers. The potatoes are organically cultivated without the use of any harmful pesticides and chemicals.
Standard Packaging Specifications
1250 kg in Jumbo Bags
10 & 25 kg Gott Bags
10& 25 kg in Propylene (PP) Bags with black linen inside to prevent light entering.